WELCOME TO MONDO MACABRO
If you have any questions or concerns, please contact us directly at mondomacabrousa@gmail.com
UNTIL FURTHER NOTICE THE "STORE" FUNCTION OF THIS SITE IS CLOSED. 
PLEASE ONLY USE THIS SITE FOR UPDATES ON FUTURE RELEASES, SIGNING UP FOR THE NEWSLETTER, OR FOR ARCHIVAL PURPOSES.
TO PURCHASE OUR TITLES, PLEASE VISIT mondomacabro.bigcartel.com. SORRY FOR ANY INCONVENIENCE. 
THE LATEST NEWS 
HALLOWEEN SALE COMING IN OCTOBER! 
Our annual Halloween Sale will go live on Thursday Oct 21 at 9 AM Pacific (google what time that is where you live) ONLY at mondomacabro.bigcartel.com! There will be a sale on our entire in print catalog as well as FOUR new Limited Edition Blu pre-orders! We've announced two of them  - HIRUKO THE GOBLIN and THE LAUGHING WOMAN. The other two will be announced in October, along with the covers and full specs for the announced titles. See you then! 
THREE NEW LIMITED EDITION BLU-RAYS ON SALE NOW AT OUR BIG CARTEL STOREFRONT!
Head over to mondomacabro.bigcartel.com to find our three latest limited edition blus, plus some other goodies!
UPDATE! As of 09/15/21, shipping has begun on these three titles! DO NOT CONTACT US ABOUT YOUR ORDER. We will get to it eventually, don't worry. Shipping will likely last through till the first week of October. 
Here is the lowdown on all three new titles ... 
THE DESIGNATED VICTIM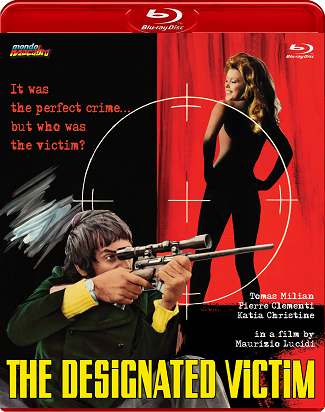 Starring Euro film favorites Tomas Milian and Pierre Clémenti
and directed by Maurizio Lucidi, this unique take on the giallo is a stylish Hitchcock riff with twits and turns all its own. With settings that include a mist-wreathed Venice, a magnificent Lake Como villa and the glitzy world of advertising, THE DESIGNATED VICTIM is a gripping, dream-like thriller that take us on a trip to hell and the very edge of insanity. 

DISC FEATURES
Region free
US home video premiere
1080p presentation from a new 4K scan and restoration of the OCN
Choice of English or Italian audio with optional English subtitles
Choice of original theatrical cut or new exclusive extended cut with alternate scenes integrated back into the film
Brand new interview with co-writer and assistant director Aldo Lado
Brand new interview with Pierre Cenlémti's son Balthazar Clémenti
Brand new audio commentary by giallo experts Rachael Nisbet and Peter Jilmstad from the Fragments of Fear podcast
Trailers

LIMITED EDITION FEATURES
Reversible cover with original ad art on each side
16 page booklet with brand new writing on the film by Italian film expert Roberto Curti
Set of lobby card reproductions
Numbered edition of 1500 in the usual red case
HUMAN ANIMALS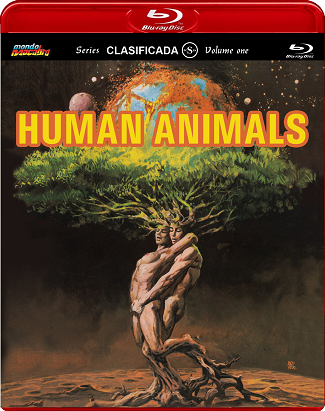 "Two men… one woman… and a dog. It's the end of the world."

Set in the aftermath of a cataclysmic nuclear war that has destroyed most of the world's population, HUMAN ANIMALS tells of three survivors - one woman and two men - who wake up on a strange, deserted landscape with no memory of their past lives and without the ability to even speak.

A huge dog appears and leads them over the mountains to a lush jungle paradise. They build a hut and learn to make fire and hunt for food. But soon violence, jealousy and above all sex, rear their ugly heads.

Trust us, you've NEVER seen anything like this before. 

DISC FEATURES
Region free world HD premiere
1080p presentation from a new 4K scan and restoration of the OCN
Brand new interview with the film's director/writer/producer Eligio Herrero

LIMITED EDITION FEATURES
Reversible cover sleeve with original ad art for the film on each side
24 page booklet with brand new writing on the film by Spanish film expert Ismael Fernández
Numbered edition of 1200 in the usual red case
And finally, IT'S NOTHING MAMA, JUST A GAME aka BEYOND EROTICA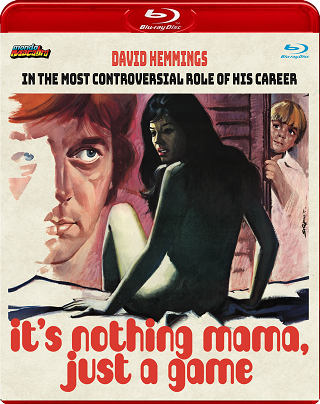 In this controversial film from 1974, David Hemmings plays Juan, a young Hacienda-owner who abuses women due to his traumatic upbringing. His late father was a sadistic tyrant who treated the women who worked on his estates as his personal property. After his father's death, Juan begins to act out his own fantasies. His favorite "game" is to have the women dress in rabbit fur bikinis while he chases them through the jungle on horseback with a pack of dogs.

One day his latest plaything gets caught in a trap and is savaged to death by the dogs. Juan's mother, Louise, played by Alida Valli, tries to find a suitable replacement for the dead girl. But Juan has his eyes set on Lola, the beautiful daughter of the estate supervisor. When Lola turns him down, Juan imprisons the girl in an abandoned horse training yard and sets to work breaking down her resistance. But things do not work out the way he planned.

This is definitely one of the roughest Eurotrash movies you'll ever see, and not for the faint of heart or the easily offended. 

DISC FEATURES
Region free world HD premiere
1080p presentation from a new 4K scan and restoration of the OCN
Choice of English or Spanish audio with English subtitles
Brand new audio commentary by Kat Ellinger
Brand new video essay on the career of David Hemmings by Chris O'Neill
Trailers
Alternate title sequence

LIMITED EDITION FEATURES
Reversible cover sleeve with original ad art on each side, B side featuring the alternate "Beyond Erotica" title
24 page booklet with brand new writing on the film by Spanish film expert Ismael Fernández
Set of lobby card reproductions
Numbered edition of 1200 in the usual red case