WELCOME TO MONDO MACABRO
If you have any questions or concerns, please contact us directly at mondomacabrousa@gmail.com
UNTIL FURTHER NOTICE THE "STORE" FUNCTION OF THIS SITE IS CLOSED. 
PLEASE ONLY USE THIS SITE FOR UPDATES ON FUTURE RELEASES, SIGNING UP FOR THE NEWSLETTER, OR FOR ARCHIVAL PURPOSES.
TO PURCHASE OUR TITLES, PLEASE VISIT mondomacabro.bigcartel.com. SORRY FOR ANY INCONVENIENCE. 
THE LATEST NEWS 
OUR FOUR LATEST LIMITED EDTIONS! 
Currently, HAUNTED TURKISH BATHHOUSE and HOUSE OF TERRORS are sold out! But IN THE FOLDS OF THE FLESH and DON'T DELIVER US FROM EVEIL are both still available, only at mondomacabro.bigcartel.com! 
Retail editions for all four are coming soon!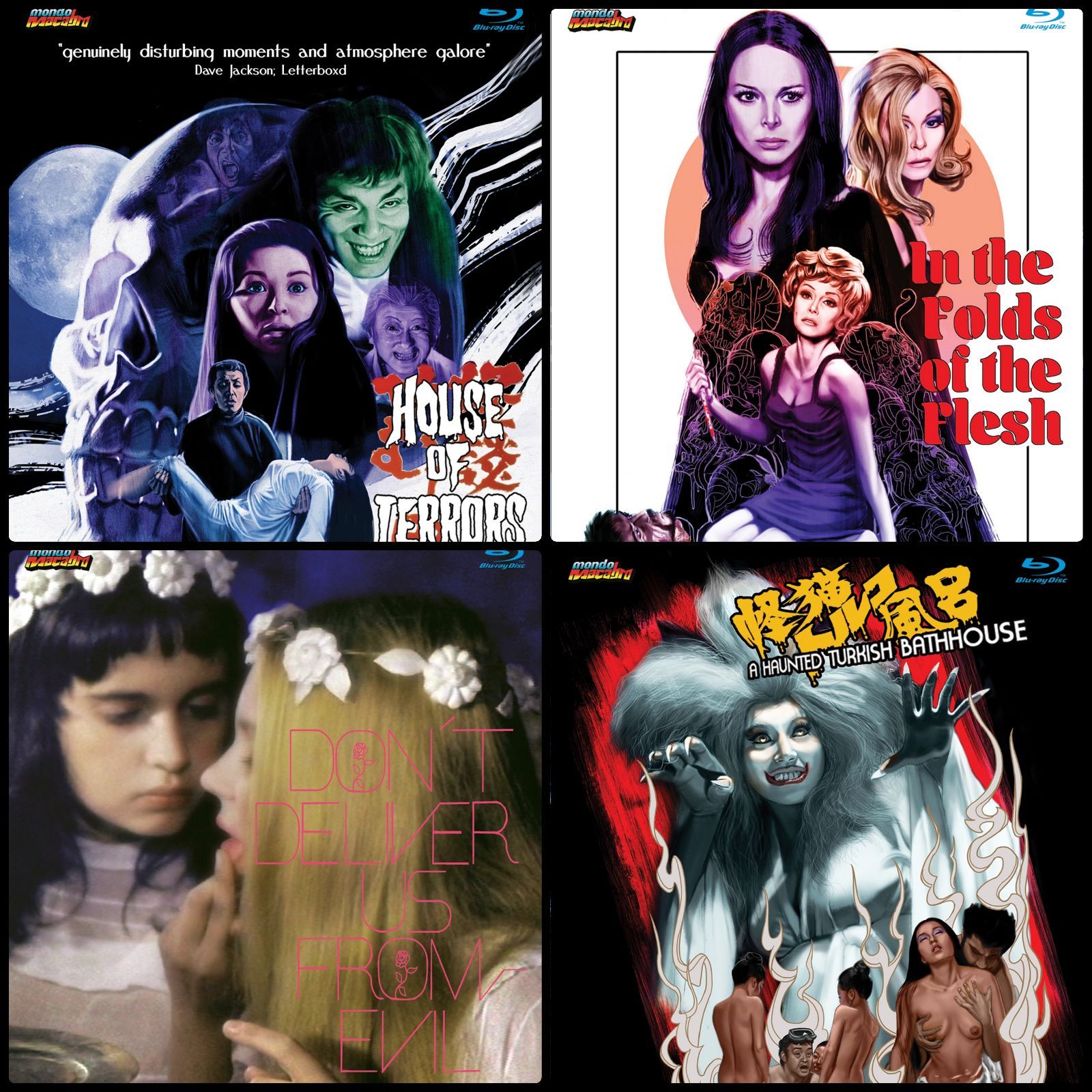 They are -
IN THE FOLDS OF THE FLESH (Spain/Italy, 1970) - 
Night-time. A peal of thunder. A castle by the sea. A severed head rolls across a carpeted floor. A blood-stained sword lies next to it…
Meanwhile police are in hot pursuit of a criminal who is evading capture on a speeding motorbike. He takes refuge in the overgrown castle grounds. And he sees a dark-haired woman burying a corpse in a shallow grave. 13 years later, after being recaptured and serving his sentence, the man returns to the castle, intent on blackmail. And maybe a few other things.
The above synopsis only covers the first few minutes of this wild psychedelic nightmare. Frequently described as one of the craziest of all Italian "giallo" thrillers, In the Folds of the Flesh is all that and more. Several dismembered heads are featured. Visitors arrive at the castle, only to be murdered in a variety of gruesome ways. Characters turn out not to be who they said they were… incest, madness, flashbacks, Etruscan skeletons and even a Nazi death camp are all woven into the fabric of the film.
A sterling cast, led by dueling divas Pier Angeli and Eleonora Rossi Drago, liven up the proceedings and make this one of the most entertaining films of its genre. This is a world Blu-ray premier restored from the original negative. 
A HAUNTED TURKISH BATHHOUSE (Japan, 1975) - 
A Haunted Turkish Bathhouse features Nikkatsu star Naomi Tani as an abused wife sold to a brothel to cover her husband's debts. The deceitful husband is actually behind it all, in cahoots with the brothel madame, who is his lover. Tani discovers the truth and gets tortured to death. However, the dead woman's soul seeks vengeance from a most unusual quarter.
The film is a bizarre mixture of Japanese erotica, gangster film and "ghost cat" horror movie. All popular genres in the 1960s and 70s. It's a heady cocktail and makes for an entertaining and unpredictable film that rocks along at a giddy pace. Director Yamaguchi is best known for his Delinquent Girl Boss and Sister Street Fighter movies as well as the Sonny Chiba film Wolf Guy. 
HOUSE OF TERRORS (Japan, 1965) -
A recently widowed woman discovers that her former husband, who died in an insane asylum, owned a remote country mansion. She and a group of friends go to the villa and find a weird demonic statue in the hallway. They are joined by a hunchback caretaker who tells them of the numerous murders that have occurred there. Soon the guests begin to hear strange noises including disembodied laughter, and feel that they are being stalked by a disturbing presence that haunts the mansion.
A rare Japanese film that was heavily influenced by US and European Gothic cinema of the 1960s, such as Mario Bava's Mask of Satan and Robert Wise's The Haunting. Filmed in luminous black and white widescreen the film is a classic of Gothic horror with many genuinely scary scenes. Packed with bizarre characters and strange occurrences the film builds to a surprising and horrifying climax. Director Hajime Satô is best known for his 1968 film Goke, Body Snatcher from Hell.
This is the film's first US release and a world premiere on Blu-ray.
DON'T DELIVER US FROM EVIL (France, 1971)
Two young convent girls become friends and decide to spend the summer together. However, their innocent bicycle rides and walks in the country soon develop a much more sinister side.
Influenced by their reading of forbidden books, they decide to explore the world of perversion and cruelty. They find a victim and use their innocent appearance to seduce and destroy him. Once they have stepped over the line, they find it impossible to stop. And soon they are contemplating the ultimate evil act.
Hugely controversial, the film was banned for blasphemy and was never released theatrically in the US. This first Blu-ray release is newly restored from the film's original negative and includes a number of exclusive extra features.