WELCOME TO MONDO MACABRO
If you have any questions or concerns, please contact us directly at mondomacabrousa@gmail.com
THE LATEST NEWS 
SEVEN WOMEN FOR SATAN and SINS OF THE FLESH are NOW ON SALE HERE! SCROL DOWN BELOW TO FIND THE LISTINGS!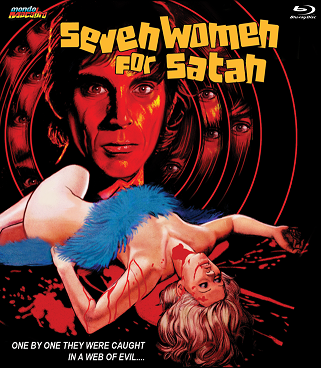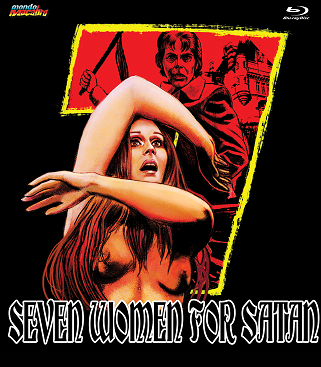 SEVEN WOMEN FOR SATAN 
"a wild psychedelic nightmare of love, lust and damnation"
France 1974
Directed by Michel Lemoine
Starring: Michel Lemoine, Howard Vernon, Joelle Coeur, Natalie Zeiger, Martine Azencot
85 minutes. English/French  audio options. Optional English subtitles
By day a mild mannered businessman, in his dreams Boris Zaroff chases naked females on his country estate, just like his notorious father.
One weekend a young couple arrive by chances at Boris's castle. Their car has broken down and Boris invites them to stay the night. The young girl is fascinated by tales of the wicked Zaroffs and asks if she can see their famous torture chamber.
Maybe now the Zaroff dreams can become reality once more?
A stylish and erotic horror film that was banned in France in the 1970s.
Mondo Macabro was the first company to resurrect this film in 2003 with their DVD release of the theatrical version. Now finally on Blu-ray, and in collaboration with France's Le Chat qui fume video label,  it's possible finally to see this rare Gallic horror film in something  like its intended form. Alongside the theatrical release the disc includes over  30 minutes of trailers and alternate and deleted scenes, including the mythical "seventh victim" sequence. Most of this footage has not been seen for 45 years and is quite a revelation.
The disc has a wonderful and eye opening  interview with Robert de Laroche who plays "Francis" the moustachioed visitor who, along with his girlfriend Muriel,  ends up as a victim in the Zaroff's torture chamber.
Other extras include an archive interview with the late Michel Lemoine who talks about his life and career in the world of Euro exploitation movies.
A 20 page illustrated booklet gives background information and production details about this unique "film fantastique".
And the package is rounded off by not one but TWO brand new sleeves from the insanely talented Justin Coffee.
Enjoy…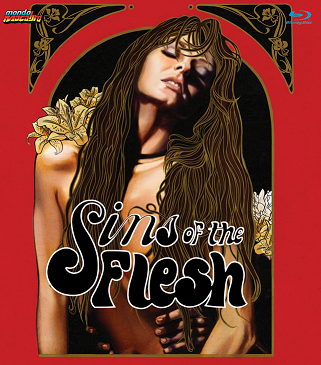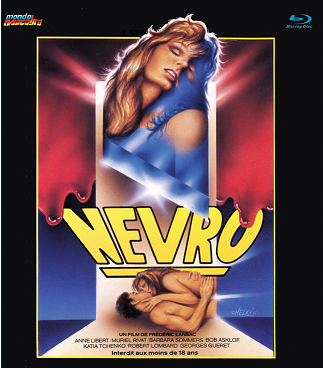 SINS OF THE FLESH
Directed by Claude Mulot
France, 1974, color
88 minutes,1.66:1/16:9; English/French audio choices. Optional English subtitles
Starring: Anne Libert, Francis Lemonnier, Patrick Penn, Barbara Sommers, Georges Gueret, Katia Tchenko, Robert Lombard
Benoît Landrieux, the idle and depraved son of a rich industrialist has two chance encounters on the same day that will change his life forever: Jean-Pierre, a young tearaway who is trying to steal his car, and Isabelle, 20 years old, whom he saves from being raped by her stepfather.
Benoît is a coward and a voyeur, who gets his kicks from watching other couples make out. He cajoles his two new companions to attempt what he has never dared do: rob the safe in his father's factory, seduce his stepmother to blackmail her for money and finally go so far as committing murder. Thus begins a wild ride that takes them to the very edge of madness.
Director Claude Mulot made this film under the pseudonym of Frederic Lansac - the name of a character from his previous horror hit The Blood Rose. Sins of the Flesh  (French title: Les Charnelles) marks the start of his transition from softcore films to full on hard core which was confirmed by his next release, Pussy Talk - one of the most controversial French films of all time. But Sins of the Flesh also shows Mulot's background in horror cinema. He presents Benoît as a cunning and complex psychopath, a handsome young man who smiles and wears expensive clothing, while inside lurks a monster.
The film is a compelling and controversial journey into the dark side of the human mind with some riveting sequences that showcase Mulot as one of the most daring and individual French film makers of his age.
The film also features Jess Franco favorite Anne Libert (Erotic Rites of Frankensteinetc) and comes in a brand new 4k restoration with a host of original extra features.
SPECIAL FEATURES:
Brand new 4k transfers from film negative, digitally restored;
interview with Anne Libert;
interview with Gerard Kikoine;
interview with distributor Francis Mischkind;
interview with assistant director Didier Philippe-Gerard;
original trailer;
alternative title sequence;
optional newly created English subtitles;
20 page booklet exclusive to this release;
Mondo Macabro previews
The limited edition features a double-sided sleeve with stunning new art work by Justin Coffee on one side and, on the other, the original image used for the French VHS release of the film back in the 1980s, where it had the title: NEVRO. The art for this side was done by the legendary Melki, who has created iconic, eye catching designs for a host of video releases, cinema posters and magazine covers from the 1980s until today.
NEW LIMITED 'RED CASE' EDITION BLU-RAYS ON SALE NOW! SHIPPING WILL TENTATIVELY BEGIN IN THE 1st OR 2nd WEEK OF JUNE.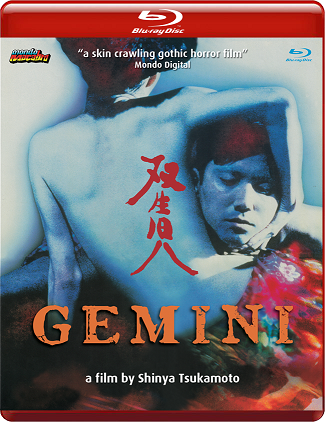 GEMINI 
This stunning film from director Shinya Tsukamoto (Tetsuo, Nightmare Detective etc) is set in Tokyo in 1910. Dr. Yukio Daitokuji (Masahiro Motoki), is a former military doctor who has taken over a successful medical practice from his father. He appears to be living a charmed life: he is respected in the local community and is married to the beautiful Rin (Ryo). His only problem is that she suffers from amnesia, and her past is unknown.
But soon his world begins to crumble. Both his parents die suddenly, killed by a bizarre, rag-wearing stranger. Yukio's relationship with his wife worsens after he refuses to cure the inhabitants of a nearby slum. Then one day he comes face to face with the mysterious killer and a shocking and deadly secret is revealed.
The film's sumptuous visuals, astonishing costume design, scenes of kinetic violence and pounding score create a unique mood of terror and wonder, leading to an unexpected and apocalyptic ending.
 The GEMINI limited edition blu is now SOLD OUT. A standard release will be forthcoming later this year.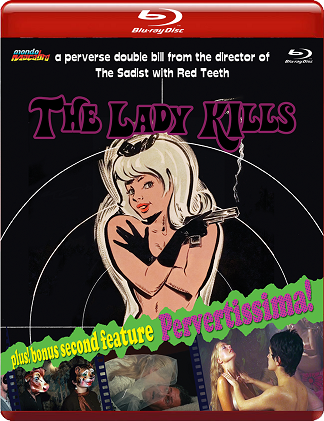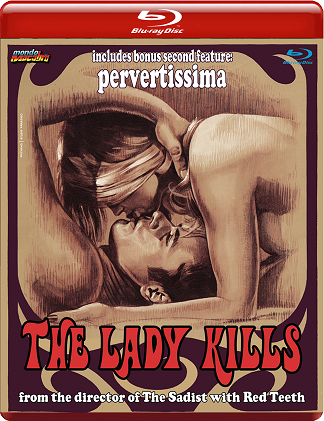 THE LADY KILLS/PERVERTISSIMA 
Remastered, restored and available for the first time on home video anywhere in the world, this new "perverse double bill" from maverick film maker Jean Louis Van Belle contains both the 1972 release Pervertissima and the 1971 production The Lady Kills.
The Lady Kills tells the story of Françoise Frémond, who travels across Europe on an apparently random killing spree, bumping off a series of increasingly odious men. From Swinging London to the eternal city of Rome, she leaves a trail of dead bodies and the question: why? A mystery film as only Jean Louis Van Belle could make it, The Lady Kills is a blast from start to finish with an amazing soundtrack of gloriously groovy psych-rock.
Pervertissima is a bizarre – and possible unique - combination of mondo movie and mad scientist flick. A beautiful woman is hired by a scandal sheet editor to research and write a report on "Love in Paris". Her quest takes her from a lesbian sauna to a secretive club of masked swingers, via stints as a street walker in a seedy Paris back alley and a strip-tease artist in an upmarket cabaret. Her final outing leads to the clinic of the dangerous Dr Vilard, who aims to create sex robots out of human flesh, and mate them to create a race of superhumans to take over the world!
This limited edition blu is now SOLD OUT. A standard release will be forthcoming later this year.