WELCOME TO MONDO MACABRO
If you have any questions or concerns, please contact us directly at mondomacabrousa@gmail.com
UNTIL FURTHER NOTICE THE "STORE" FUNCTION OF THIS SITE IS CLOSED. 
PLEASE ONLY USE THIS SITE FOR UPDATES ON FUTURE RELEASES, SIGNING UP FOR THE NEWSLETTER, OR FOR ARCHIVAL PURPOSES.
TO PURCHASE OUR TITLES, PLEASE VISIT mondomacabro.bigcartel.com. SORRY FOR ANY INCONVENIENCE. 
THE LATEST NEWS 
OUR ANNUAL HALLOWEEN SALE GOES LIVE OCTOBER 21st AT 9 AM PST/12 NOON EST! 
We'll have almost all of our extinsive in-print back catalog on sale from Oct 21 through to November 1st. How much things are discounted will depend on how recent they are or how well they sell. Shipping fees will also be discounted! In addition this we will have FOUR new red case LE Blu-rays up for pre-order! Full details below ...
Please note that the sale and pre-orders will only be available at our sister site - mondomacabro.bigcartel.com! 
HIRUKO THE GOBLIN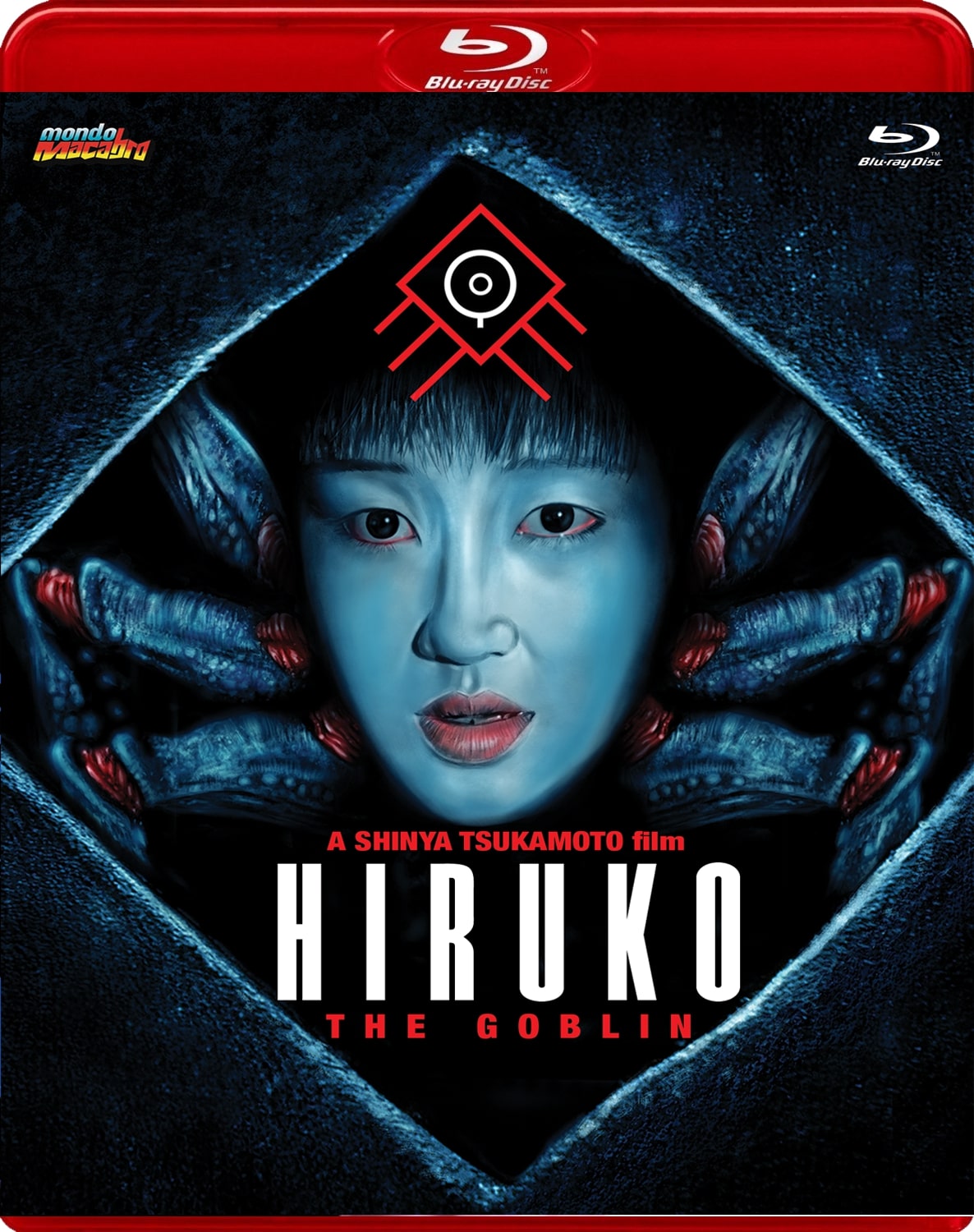 Hieda (played by Kenji Sawada) is an eccentric archaeologist, disgraced among his peers for his theories on the supernatural. One day he receives a letter from his brother-in-law, Yabe, telling him of an ancient burial mound he has discovered in the grounds of the local high school, a discovery that might help prove Hieda's theories to be true. When Hieda arrives at the school, which is now closed for summer vacation, he discovers that Yabe has gone missing, along with one of the school's female pupils. Teaming up with Yabe's son, Masao, Hieda searches for the ancient tomb, convinced that it might be the burial place of Hiruko – a fearsome demon from ancient legends.
This was director Tsukamoto's second feature film, after the surprise success of TETSUO: THE IRON MAN. Based on a Japanese manga series, HIRUKO is an astonishing melding of Lovecraftian cosmic terror, cyberpunk splatter and Spielberg-style adventure. With brain busting special effects and an amazing array of hideous demon creatures, the film is a roller coaster ride into a unique world of terror and beauty from one of the world's greatest filmmakers.
DISC FEATURES
Region A locked North American Blu-ray premiere
1080p presentation of 2K restoration from the OCN
Japanese audio with optional English subtitles
Brand new interview with director Shinya Tsukamoto
Archival interview with Shinya Tsukamoto
Archival intro to the film by Tsukamoto
Archival interview with SFX director
Archival SFX featurette
Brand new audio commentary by Tsukamoto expert Tom Mes
Trailer
LIMITED EDITION FEATURES
Brand new cover art by Gilles Vranckx, 20 page booklet with brand new writing on the film by Asian fantasy film expert Jonathan Clements, 1500 numbered copies in the usual red case
THE LAUGHING WOMAN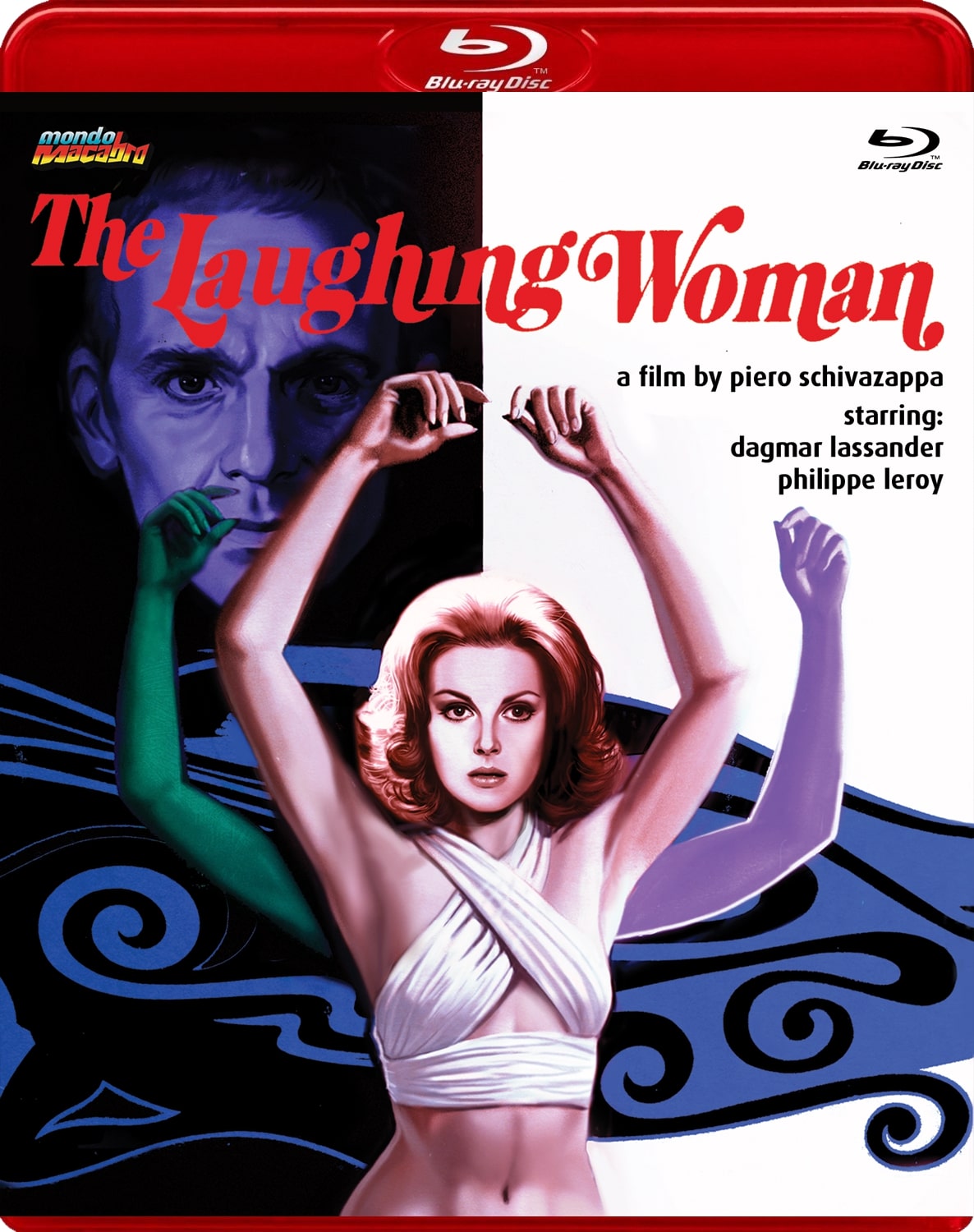 In this deliciously twisted pop art extravaganza, Dagmar Lassander plays Maria, a woman employed in the press office of a large philanthropic organization run by the stern Dr Sayer. One Friday she visits his house to collect some journals. She accepts a drink from him and the next thing she knows she is chained to a metal frame in a room bathed in a sickly red light. Sayer tells her she is now his prisoner and he can do anything he likes with her – even kill her.
What follows is an astonishing game of cat and mouse, as Maria uses all her skills to stay alive, while secretly exploring Sayer's weaknesses. As the story progresses we start to see the characters in a very different light. Is Sayer the demonic psychopath he claims to be? And is Maria really the innocent victim?
With its iconic, late 60's production design and a brilliant music score by renowned composer Stelvio Cipriani, THE LAUGHING WOMAN is a stylish and sophisticated entertainment that questions all our prejudices and preconceptions about the relationship between men and women.
DISC FEATURES
Region free world Blu-ray premiere
1080p presentation from a 4k restoration of the OCN
Choice of English or Italian audio, with optional English subtitles
Interview with writer/director Piero Schivazappa
Audio commentary by film scholar Kat Ellinger
Video essay on the film's production design from Rachael Nisbet
Animated foto-novel by Jacques Spohr
Trailers
LIMITED EDITION FEATURES
Brand new cover art by Justin Coffee, 20 page booklet featuring brand new writing on the film by Italian film expert Roberto Curti, 1500 numbered copies in the usual red case
SUKKUBUS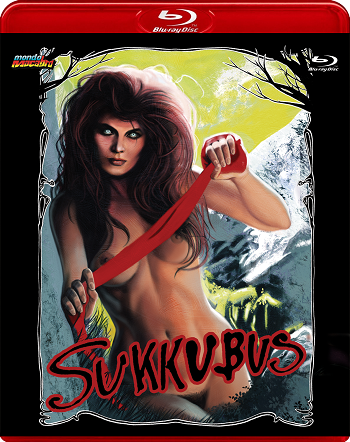 "A Swiss legend tells of 3 herdsmen who invoked the forces of evil and were punished terribly for their sacrilege."
This film is the story of that sacrilege and its punishment.
There's much talk these days of "folk horror". This film is the real deal, based on a gruesome and ancient story, much retold by people who live in the Alps – the huge mountain range that spans six European countries. In the summer the three herdsmen, two adults and a young apprentice took their cattle high up on the mountains where the pastures are richer. At night, holed up in their cabin there was little for them to do. Inevitably, their thoughts turned to sex. But as they were three men… what could they do? The more reckless of the men tried it on with the young boy but was soon put in his place by the group's leader, who was himself combating lustful thoughts through prayer.
One day the boy finds a peculiar tree root shaped like a face. He brings it back to the hut and makes a kind of wig for it out of old straw. That night the two older men get drunk and, seeing the strange root, they decide to use it to make a life-sized female doll, using bits of old clothing, straw and wood. They baptize their creation with strong liquor and even offer it food. And then, to their shock, the doll comes to life in the form of a beautiful woman. And that's where their nightmare really starts. Resisting their abuse of her body, the demonic doll hunts them down one by one and takes a terrible revenge.
DISC FEATURES
Region A locked US home video premiere
1080p presentation from a 4K restoration of the OCN
German audio track with optional English subtitles
Exclusive interview with actor Peter Simonischek
Original trailer
LIMITED EDITION FEATURES
Brand new (and, exclusive to the LE, uncensored) art by Justin Coffee, 20 page booklet with brand new writing on the film by Pete Tombs, 4 double sided art cards reproducing original lobby card art, 1200 numbered copies in the usual red case
SCHOOL OF DEATH
The outwardly respectable St. Elizabeth's Refuge in Victorian London is a place where young orphans and other female waifs and strays are trained to be good servants, destined for employment in the houses of upstanding citizens. One by one the girls are sent out into the world, never to be seen again.
The headmistress, Miss Wilkins, is a firm disciplinarian. Any of her girls who seem rebellious or wanton will be taken to the punishment room and given a good whipping by her willing assistant, Miss Colton. But should the girls fall into the hands of the sinister Dr. Krueger, their fate will be even worse.
One of the most rebellious students, Leonore - played by Spanish actress Sandra Mozarowsky - is determined to find out what happened to her friend Sylvia, who died after being sent to a rich man's house one night. What she discovers is more horrifying and twisted than she could ever have imagined. But will she live to tell the tale?
This dark tale of Gothic horror appears on disc for the first time ever and in a new digital restoration from the original negative.
DISC FEATURES
Region Free World Blu-ray Premiere
1080p presentation from a new 4K restoration of the OCN
Choice of English or Spanish audio tracks with optional English subs
Audio Commentary by film historian Kat Ellinger
LIMITED EDITION FEATURES
20 page booklet featuring brand new writing on the film by Spanish film expert Ismael Fernandez, reversible cover sleeve with original ad art on each side, 1200 numbered copies in the usual red case